-By Thiart van der Merwe
As we ended off 2017, the headlines were dominated by the ANC leadership race. It came down to two candidates who represented different factions within the ANC. In the end Ramaphosa edged out a marginal victory over Dlamini-Zuma. The Rand subsequently strengthened by more than 11% as investors welcomed a business-friendly president.
Further voting took place – splitting the ANC Top 6 through the middle with three candidates backing Ramaphosa and the other three firmly supporting the Zuma camp. The National Executive Committee (also seemingly split down the middle) will have the challenging task of deciding the president's fate. Will he stay or will he go?
The renewed optimism within our markets would be bolstered with an early Zuma-exit. Ratings agencies will see this as a positive move as Ramaphosa will then take full charge. His willingness to weed out corruption and enforce policy changes will be critical to get South Africa back on track.

The last quarter of 2017 saw another major private sector firm embroiled in corruption allegations. This time it had nothing to do with the Gupta's. Audit and tax firm Deloitte did not sign off the financial statements of Steinhoff. This was followed up by the resignation of CEO, Markus Jooste that led to a 91% drop in the share price. This equates to value destruction for investors of roughly R220 billion. Before the scandal broke, Steinhoff was the ninth biggest share on the JSE All Share Index. The full details of the accounting irregularities have not yet been published and Steinhoff has indicated that financial statements for 2015 and 2016 will also need to be reinstated.
Karl Leinberger from Coronation wrote this article to give more insight to Steinhoff and this all unfolded. See page 12 of the Coronation newsletter.
Investors are subsequently nervous of further scandals. Naspers came under pressure when subsidiary Multichoice was allegedly linked to Gupta company payments. Furthermore, the property sector and Aspen declined when Viceroy announced that they would be investigating other companies on the JSE. (Viceroy is the same company that published the damming report on Steinhoff).
This reiterates that corruption is more than a public-sector issue. We can only hope that proper governance and solid auditing work in the private sector exploits any further scandals. We need to reverse a deeply rooted problem of unethical behavior within our society.
From an investment perspective, a diversified portfolio should be able to sustain certain shocks that would be difficult to predict.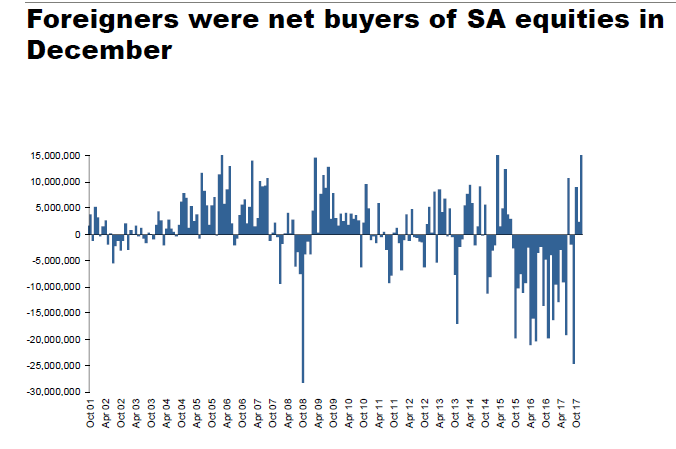 Source: Investec
Towards the end of 2017, foreigners were net buyers of local equities for all three months of the fourth quarter. The Ramaphosa victory boosted investment as was seen with a strengthening Rand and a much firmer financial sector up 10% despite a ratings downgrade. SA Inc prices also showed strong gains (all the shares with predominantly local earnings). Emerging Markets were the star performer of 2017 and South Africa benefited as investors are looking for solid returns outside of the developed world.
Inflation predictions remain within the SA Reserve Bank's target range below 6%, currently forecast to be 5.3% year-on-year. Should we manage to stave off another rating downgrade, we could even see an interest rate cut in the first quarter. If the ANC under Ramaphosa manages to improve business confidence and avoid any own goals, we could see an influx of investment into our markets. The first stop is the World Economic Forum in Switzerland where Ramaphosa is showcasing SA's attractiveness as an investment destination. This would benefit SA Inc. stocks that have been lagging for some time.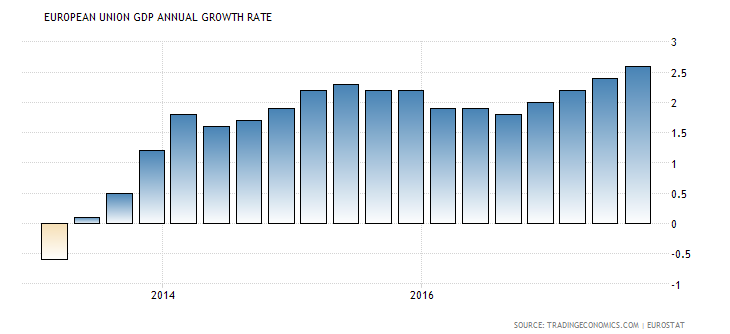 Source: Trading Economics
The European Union was the surprise performer of 2017. The EU economic activity grew by roughly 2.6%, – that's more than double what forecasts suggested at the start of the year. The Euro strengthened by more than 13% against the Dollar and European company's earnings per share increased by 12%.
France, Germany and the Netherlands held elections with opposition parties pushing towards leaving the European Union. In all three instances, these parties were unsuccessful. Although this rhetoric will continue with other countries in 2018, it set a good precedent that the biggest economies are in favour of a unified Europe. The traumatic divorce of the UK from the EU (Brexit) will most likely put other countries off from the same choice.
The European Central Bank has indicated that it will halve its bond-buying program in the year ahead. According to the Central Bank this will be done gradually to bring normality back to European Markets. ECB president, Mario Draghi reiterated that the plan is not to stop the program suddenly and they have the flexibility to adjust the stimulus whenever they like. Should there be a continued uptick in economic activity, the program will be tapered down.
| | | | | | |
| --- | --- | --- | --- | --- | --- |
| Asset Class | Currency | 1 Month | 3 Month | 1 Year | 2016 |
| Local Equity | ZAR | -0.3% | 7.4% | 21.0% | 2.6% |
| Local Bonds | ZAR | 5.6% | 2.2% | 10.2% | 15.4% |
| Local Property | ZAR | 4.2% | 8.3% | 17.2% | 10.2% |
| Local Cash | ZAR | 0.6% | 1.8% | 7.5% | 7.4% |
| Resources | ZAR | -0.5% | 4.9% | 17.9% | 34.2% |
| Industrials | ZAR | -4.1% | 4.7% | 22.5% | -6.5% |
| Financials | ZAR | 8.4% | 16.0% | 20.6% | 5.4% |
| R/US Dollar | | 9.3% | 8.3% | 9.5% | 11.7% |
| R/Pound | | 9.3% | 7.6% | 0.9% | 26.0% |
| Global Equities | USD | 1.6% | 5.7% | 24.0% | 7.9% |
| Emerging Market Equities | USD | 3.6% | 7.4% | 37.3% | 11.2% |
| Local Equity | USD | -0.3% | 7.4% | 21.0% | 2.6% |
Emerging Markets outperformed other asset class in 2017 – up 37% for the year. Local equities lagged due to local political challenges and the Steinhoff scandal wiped billions from the index. Financials showed resilience in the last quarter despite a rating downgrade – up 16%. The Ramaphosa election benefited this sector and time will tell whether we can avoid another downgrade, which would be a major victory for local shares.
Locally, Equities were the top performing asset class, with property second and a return there of 17.2% thus reversing the trend of 2016 where cash-generating instruments came out tops.
Indicators point towards favourable market conditions in 2018 for South Africa.
We can only hope that decision makers both in government and the private sector take some advice from Warren Buffett: "It takes 20 years to build a reputation and five minutes to ruin it. If you think about that, you'll do things differently."