We believe that our clients' needs regarding financial markets have changed. There is now so much credible information available about financial markets, that our time and energy needs to focus on where we can best add value within that context. However, we are also aware that our clients would like to know what our informed review and analysis is of the financial market, as their investment company. Therefore, we will now deliver only a brief introduction of the financial market and include a detailed quarterly review and analysis by our specialist investment manager, PortfolioMetrix for those who are interested.
As South Africans, we are accustomed to the bad news and growing challenges facing our country. Whilst they are not to be ignored, they have recently been overshadowed by global events such as the trade war between China and the US and rising tensions in the Middle East. Relief came in December in the form of a trade truce in the US-China debacle with a potential Phase One deal being signed early in 2020. Markets cheered the outcome and consequently riskier assets such as emerging markets, which includes South Africa, rallied.
In the United Kingdom citizens rushed to the polls voting for Boris Johnson and his Conservative Party thereby paving the way for a clearer Brexit. The deadline was extended from October to 31 January 2020.
Locally, we sat through a disappointing Medium Term Budget Speech by finance minister, Tito Mboweni. Moody's retained our investment grade rating but the consensus now is that we are likely to see a downgrade in 2020. Economic growth in 2019 disappointed bringing our annual growth rate over the last 5 years to under 2%. Eskom continues to be the biggest challenge to bolstering growth and although new management is in place, they have a massive task ahead of them.
Despite all the negatives, markets had a great turnaround year. Equities, both locally and globally, showed great returns. Local bonds also continued to perform well and the Rand strengthened to R14/$ at year-end.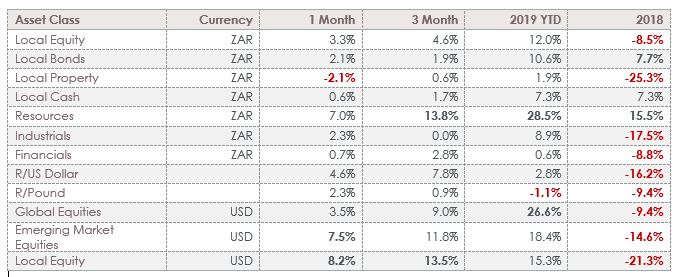 Many top analysts think that company valuations on the JSE have rarely looked this cheap, with dividend yields being exceptionally attractive. This bodes well for future returns from the local market given that good valuations have been a great indicator for future returns in the past.
With that, I leave you with the following quote that appeared in the Financial Times: "The stock market is the only market where customers run away from a sale." Instinctively we tend to buy when everyone is hopeful and sell when everyone else is panicking. Last year proved that this strategy can lead to ruin and we believe that good long-term outcomes can be achieved by having the courage to do the opposite of what feels safe.
For a detailed review on events that shaped the final quarter of 2019, click through to PortfolioMetrix's Quarterly Review.