When a week overshadows a quarter
When we planned this quarterly feedback, things were looking better in South Africa – business confidence was at an eight-year high boosted by significant gains in the fight against corruption, the South African equity market outperformed global markets for the first half of this year and the Rand was at its strongest levels in years. However, this may have all changed in the first few days of July.
Riots and looting, as part of a coordinated attempt to destabilise South Africa, started off the second half of 2021. The result has been emotionally devastating to all and financially destructive to the victims and the country. But as rioters looted, we also saw ordinary South Africans from all races and walks of life band together to protect neighbourhoods and commercial property and rebuild after the devastation – effectively standing in for a weak state.
Whilst the Rand weakened and markets deteriorated somewhat, the financial market fall-out was much less than anticipated. To some extent, it was cushioned by foreign investors buying local bonds; but we also believe that local investors were taking a wait-and-see attitude. Although these riots will dent South Africa's immediate prospects, it is not clear-cut what the long-term impact will be.
But let's take a look at the context of recent events.
Vaccine roll-out – Positive towards end of year.
Our vaccine rollout had a slow start but ramped up significantly towards the end of June. While we're still facing strict lockdown measures, it is reassuring to see the decline of Covid related deaths in countries where the majority of the country has been vaccinated. The graph below illustrates new daily deaths for the United Kingdom and United States, where more than 50% of the population have received at least one dose, compared to South Africa who has only now opened vaccines to people over the age of 35. It is our government's aim to have 50 – 60% of our population receive at least one dose by the end of September. The public/private partnership in the vaccine roll-out has been encouraging and the news that South Africa will manufacture the Johnson and Johnson vaccine from the end of July, effectively securing sufficient vaccines for the country, is too. Should the vaccine roll-out targets be realised, we may, toward the end of the year, see an uptick in economic activity – similar to what the UK and US experienced when they started opening up again.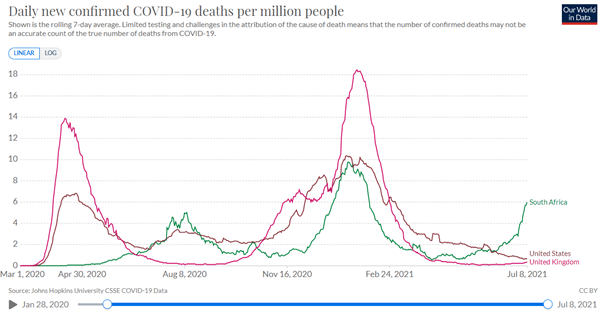 Source: Our World in Data
Recovery in economic data
Economic data released during the second quarter showed positive signs of a recovery.
South Africa's current account balance is now in the green by a whopping R267 billion. This means we are exporting far more than we import. As the global economic recovery takes shape, South Africa is benefitting from agriculture and mining exports and high commodity prices.
The budget deficit for the 2021 tax year came in at R16 billion less than expected, mainly as a result of better-than-expected revenue collections by SARS. This is evidence of rebuilding our revenue collection capacity and will reduce future borrowing. It all adds to the effort made to stabilize the country's debt-to-GDP ratio which is one of Treasury's main objectives.
The effect of these positive developments, coupled with some steps in the right direction by government, has led to a stronger Rand. In fact, at current levels, the Rand has, over the last 5 years, strengthened against the dollar – contrary to what most people would think. The graph below illustrates the long-term movement of the Rand against the dollar.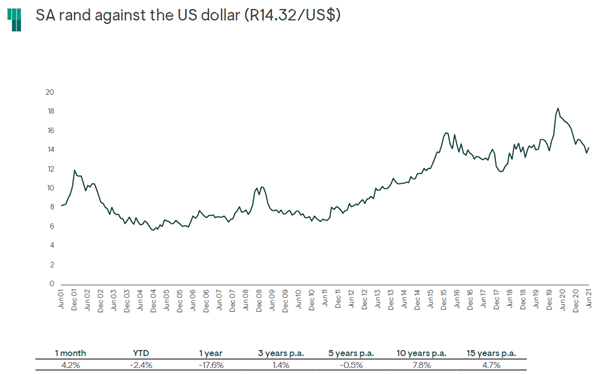 Source: Ninety One & Bloomberg
Government announcements – Steps in the right direction
During the quarter we saw significant action taken by the government regarding privatisation and corruption. Firstly, the president announced that the private sector could now generate up to 100MW of power for consumption – up from the current 1MW. This is a step towards deregulating the energy sector.
We also now have a public-private partnership at South African Airways, where 51% of the company is now in the hands of a private shareholder who has experience in aviation. This may end the bailouts constantly provided to the airline.
On the corruption front, we saw Ace Magashule suspended from the ANC and Jacob Zuma arrested for contempt of court. These changes have led to an increase in business confidence. The graph below shows that business confidence was back to levels last seen in 2012. As Stanlib lead economist Kevin Lings emphasizes, to fix South Africa, we must fix business confidence.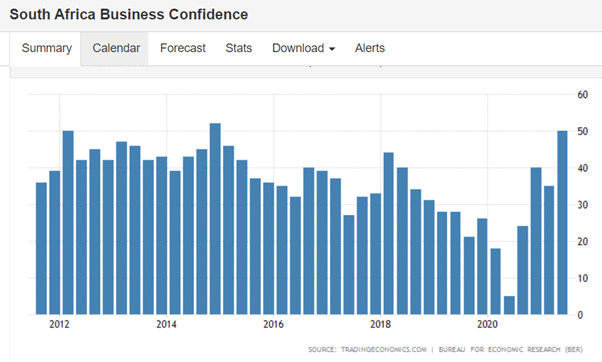 Source: tradingeconomics.com
The markets
Financials have rebounded strongly in the second quarter whilst resources gave up some of the gains made during the first quarter, mainly due to the stronger Rand. Local property regained some of the losses made during 2020, up 12% for the quarter and 19% for the year. Markets in the developed world are continuing their stellar run as these countries become fully operational in what is deemed a post-Covid boom.


Source: PortfolioMetrix
Where are we now?
It now remains to be seen whether the recent unrest will stall and possibly negate the strides we have made in our recent past. How much will business confidence falter, foreign investment be hurt, and what will the long-term damage be to our economic growth?
If this crossroads is utilised by President Ramaphosa to rid the leadership of compromised individuals, and to announce further deregulation and public/private partnerships to speed up economic growth, development and service delivery, this sad event in our history may not go to waste. This crossroads may then lead to a continuation of the positive trajectory of the last quarter.
Alternatively, it is also clear that the divide in the ANC, between those who believe in the rule of law and constitutional democracy and the kleptocrats, has brought us to this brink. If the party cannot move in the direction of upholding law and order and providing for most of its citizens – instead of focusing on its own survival – it will cease to be relevant. We will see new entrants in the political arena, new alliances and new initiatives driven by civil society. It will take longer and come with more uncertainty; but either way, change will come.
What ordinary citizens have shown over the past few weeks, is that the majority are in favour of upholding law and order and want peace and prosperity for this country. And that they are prepared to take a stand for it. The eventual outcome demonstrated that just like during Apartheid, civil society is key to effecting change. And can force that change.
What can we do about our investments?
Many people will re-evaluate their future in South Africa as a result of these riots and others may want to review their strategy. We have repeatedly stated that political risk is not just corruption or what Malema says about taking land, but the masses of predominantly, young, unemployed, hopeless and hungry people. These riots have shown that they can be mobilised by evil leaders because of their desperation. In general, our clients' portfolios have been well diversified and increasingly dominated by global investments to reflect this risk. Specifically, we have taken a risk-based approach to global investments linked to the probability of either living, retiring outside South Africa or having significant expenses in other currencies, and we will continue to do so
Inflection points, like this one, do not have one-way outcomes and we warn against knee-jerk reactions to these events.
Personally, my emotions vacillate between anxiety, fear and sadness to hope and a feeling of togetherness. Seeing how people have protected their communities and infrastructure, how ordinary South Africans have cleaned up streets and malls has made me realise what a truly great country we live in.
As high-profile politicians face jail time on corruption charges there may be more attempts to destabilise the country. However, it is clear that in the absence of a strong government, there is broad acceptance in civil society that constitutional democracy and the rule of law need protection and that citizens will take an active part in the protection of those beliefs.
I am reminded of this powerful quote by Nelson Mandela: "It is not our diversity which divides us; it is not our ethnicity, or religion or culture that divides us. Since we have achieved our freedom, there can only be one division amongst us: between those who cherish democracy and those who do not."
Halala Afrika
For an in-depth review on the quarter you can follow the link to the full review here.