Look
Remember last month we looked at the trade balance in South Africa, and we highlighted that the surplus funds in our system might support employment over time? Well, it's not looking good…. Covid 19, corruption, low business confidence, complex labour laws are some of the reasons for our high unemployment numbers. In August however, our unemployment numbers came in higher than ever. Even more concerning is the unemployment amongst our youth. Nearly two-thirds (64.4%) aged 24 and under are unemployed, and 42.9% of those aged 25 to 34 are unemployed. Unemployment remains South Africa's biggest problem and we cannot make progress unless this is addressed in a meaningful way.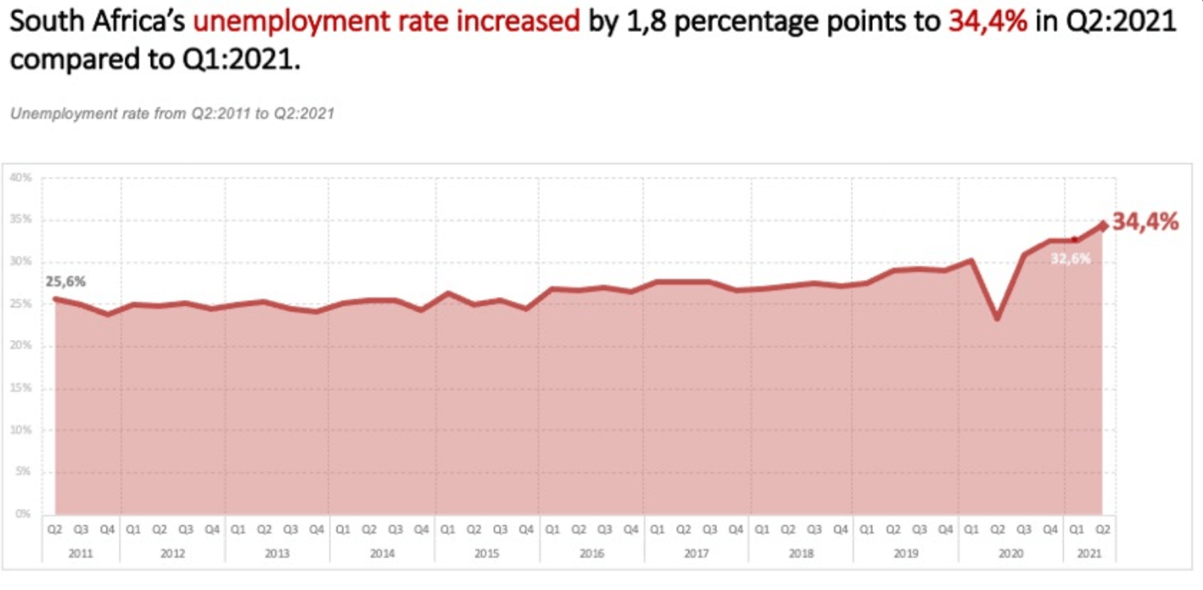 Source: StatsSA.
---
Listen
Have you ever made a decision about something, and then started doing the research? Typically, you look for research and data that supports your view. You do this without even realising it; it's a subconscious act to garner support or justification for your decision. It's called Confirmation bias. I can relate to this and constantly need to read widely and listen to other views to challenge my own thinking. To make sure I don't suffer from that bias. Have you noticed yourself doing this? Making decisions from such a bias?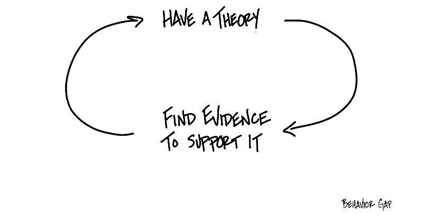 This podcast on the topic by Carl Richards, the author of The Behavior Gap, was so much fun to listen to because he This podcast on the topic by Carl Richards, the author of The Behavior Gap, was so much fun to listen to because he exposes how our subconscious drives our behaviours and creates bias; but he does it with such wonderful humour. I hope you enjoy it too.
---
Learn
One of the world's greatest football team managers, Arrigo Sacchi, has a famous quote, "Football is the most important of the least important things in life." Similarly, I think wine lovers will agree that it's a great pleasure and privilege to enjoy good wine amidst the suffering and uncertainly of a global pandemic. British wine journalist, Tim Atkins covers this duality in his South Africa 2021 Special Report this month. It might be a luxury for some, but for many farmers and wine makers it has been a difficult year with Covid 19, travel restrictions and liquor restrictions.
South Africa is the 7th largest wine producer in the world and the 4th largest New World wine producer, amongst USA, Argentina, and Australia. This report celebrates the fact that South African wine producers have one goal in mind and that is to be the New World's finest producer.
Tim has been rating South African wines for the past 9 years, and he believes no other wine industry in the world has made the strides South Africa has. No other industry processes such energy and excitement, and he urges us not to lose sight of this, especially amidst difficult political and economic times like these.
One of the highlights of the report is that the best South African Chenin Blanc wines are world class! The two highest scoring white wines, with 99 points each, were Chenin Blanc wines. Both wines are made from grapes grown in the Citrusdal Mountain area, now regarded as one of the greatest wine-growing sites in the world, speicifically the Alheit Vineyards Magnetic North Chenin Blanc 2020 and Eben Sadie's Skurfberg 2019.
Amongst the red wines, South Africa is establishing itself as a fine producer of Syrah. Tim calls this our "best red grape". Out of the 23 wines that scored 97 and higher, most of them where Syrah wines. The highest scoring wine being the Porseleinberg Syrah 2019 with 99 points.
The star of show this year goes to a Eben Sadie's Columella 2019, with a perfect score of 100. This is the second year in the row that the Sadie family received 100 points for one of their wines: last year their Chenin Blanc, Skurfberg took the top prize.
The Sadie family have been producing Columella for 20 years. It a red blend based on Syrah with 55% mouvedre, grenache, carignan, cinsault and tinta barocca. As Tim says, "It's a truly great wine at the peak of its considerable powers.".
The Tim Atkin report costs GBP20, which is not much for a comprehensive 250+ page document. This year Tim tasted 1783 wines. You can find the report here.
A great bottle of wine is certainly one of the most important of the least important things in my life. What would this be for you?

---
Share
Our Foundation community has a wealth of insight and knowledge. With this monthly letter, we would like to launch a poll asking you for your vote. We are looking for the hidden gems that we can share amongst ourselves. The idea is to keep it light and fun.

Results from last month's edition:
What has been your favourite series to watch this year?
I was not expecting so many different titles! We are certainly spoilt for choice.
Most votes went to: Mare of Easttown, The Queens Gambit and Ted Lasso.
Also look out for locally produced documentary, Devil's Dorp. A client and friend of mine was one of the producers on the show. It's been one of the most watched, locally produced shows. A wonderful achievement!

Click on the link below for this month's poll:
What is your favourite wine (if price and availability was irrelevant)?
What is your favourite budget friendly wine?
https://www.surveymonkey.com/r/35FFHQC
---
I hope you enjoyed this month's edition. Let me know if you have anything interesting to share.
Let's stay curious together!
Elke Zeki, CFP®
Head of financial planning & strategic partner