Look
An unusual thing is happening to the trade balance in South Africa. We are currently exporting more goods than we are importing. Much more! In fact, our trade surplus is sitting at an all-time high. This is driven mostly by higher commodity prices. So why is this important?
It supports the Rand.
Bigger profits from mining companies means that SARS collects more revenue.
SARS therefore has a budget surplus due to the additional revenue it collects. This money can be used to fund damages caused by looting and unrest. There is no need for the government to borrow the money. Even after paying for damages there should still be a surplus that can help fund other projects.
It remains to be seen how long the surplus will last, but it could potentially translate into job creation, which is crucial for economic growth and political stability.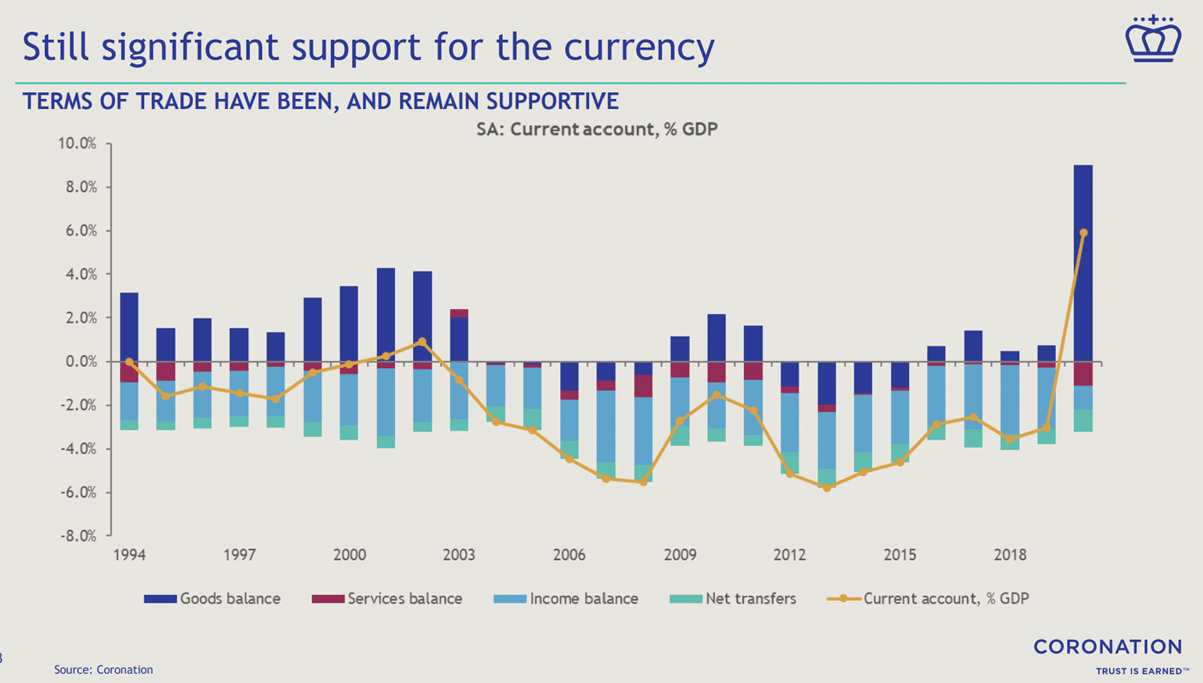 Listen
Kevin Lings, the chief economist at Stanlib is one of South Africa's most gifted economists and speakers. He has a rare ability to explain complex issues in a way that makes sense to anyone, even your granny. In this presentation he shares his insightful views on the unparalleled growth story that has unfolded across various developed and emerging economies; and where South Africa might stumble or lead.
STANLIB Webinar: Is South Africa being left behind?
Learn
This month's book, like the graph above, is all about small changes that can have a significant and lasting impact on your life.
Covid has impacted our lives dramatically and for most of us, the past 16 months have been challenging. Personal challenges, of varying severity, have been thrown into stark relief by lockdown. Like so many, I have personally found it difficult to tackle new challenges or set new goals. This book has therefore been such a gem.
Atomic Habits, written by James Clear is about habit formation. He shows how tiny, micro-behaviours can lead to remarkable results.
Share
We all want to feel part of something bigger, perhaps now more than ever. Our Foundation community has a wealth of insight and knowledge. With this monthly letter, we would like to launch a poll asking you for your one best idea. We are looking for the hidden gems! The idea is to keep it light and fun.
Results from last month's edition:
During lockdown, what has been your favourite restaurant to support?
We got so many wonderful ideas, it's clear our audience enjoys different foods. Only a few restaurants got more than one mention. The black sheep in Cape Town and Cnr. Café in Johannesburg. If you haven't tried these before, give them go!
---
Click on the link below for this month's poll:
What has been your favourite series to watch this year?
https://www.surveymonkey.com/r/XVHRZJ6
---
I hope you enjoyed this month's edition. Let me know if you have anything interesting to share.
Let's stay curious together!
Elke Zeki, CFP®
Head of financial planning & strategic partner