LOOK
What does "priced in" mean? It's when a future event that the market has already anticipated is factored into the market. For example, the market may anticipate an interest rate hike and adjust asset prices accordingly. Eventually, when the central bank raises interest rates, the market may not react because it has already been priced in.
If we look at the graph below it may seem that the market perceives risks to be higher than they are. The South African 10-year bond yield is currently offering one of the highest real yields in the world. Typically, the higher the yield the higher the perceived risk of the country and the levels of debt it needs to service. Yet SA is not the most indebted country in the world, so what other risks might the market be pricing in? Uncertainty around:
Political instability
Government's ability to deliver on their promised fiscal discipline
SOE's needing further government funding
Low economic growth (especially relative to debt growth)
If we think of these risks, the higher yield is perhaps justified. Thankfully risk also comes with opportunity. If any of these risks can be addressed or improved, there may be big capital appreciation for investors. In the meantime, South African investors, especially in retirement products benefit from these attractive high yields.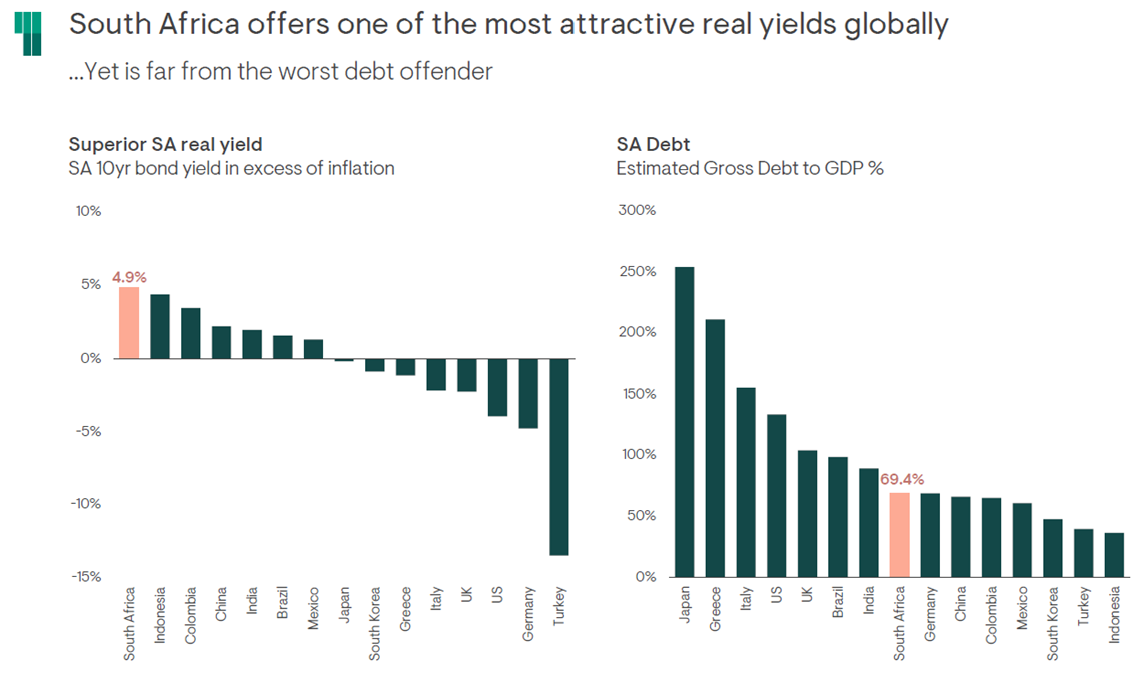 Source: IMF, Bloomberg and Ninetyone.
---
Listen
I'm often in awe of what our bodies can do. This is one of the best little videos I've seen on how vaccines work. I hope you find it as interesting as I do.
---
Learn
Yes, it's that time of year! The mad rush to get everything done before the holidays. I'm not sure what role COVID played, but this year feels even more frantic than most. Maybe returning to "normal" is hard because we are out of practice, or maybe we are genuinely tired. Whatever the reason, I find this a difficult time of year to slow down, reflect and learn. It's much easier for me to look forward and think about what the next year may hold.
On looking forward I wanted to share an article from Ninetyone, in which they explain how a thematic approach to investing has helped them identify important areas of superior performance over the years. They identify 5 key themes or trends to take note of in 2022. These are demographics, debt, technological disruption, China's rise, and climate change. From each of these big themes, smaller themes and trends may arise.
I can see the importance of these trends and how they can affect the way we make investment decisions. In our complex and fast-changing world, it is good to know that our clients' investments are diversified across the world and managed by many different asset managers ensuring that all these trends are taken into consideration.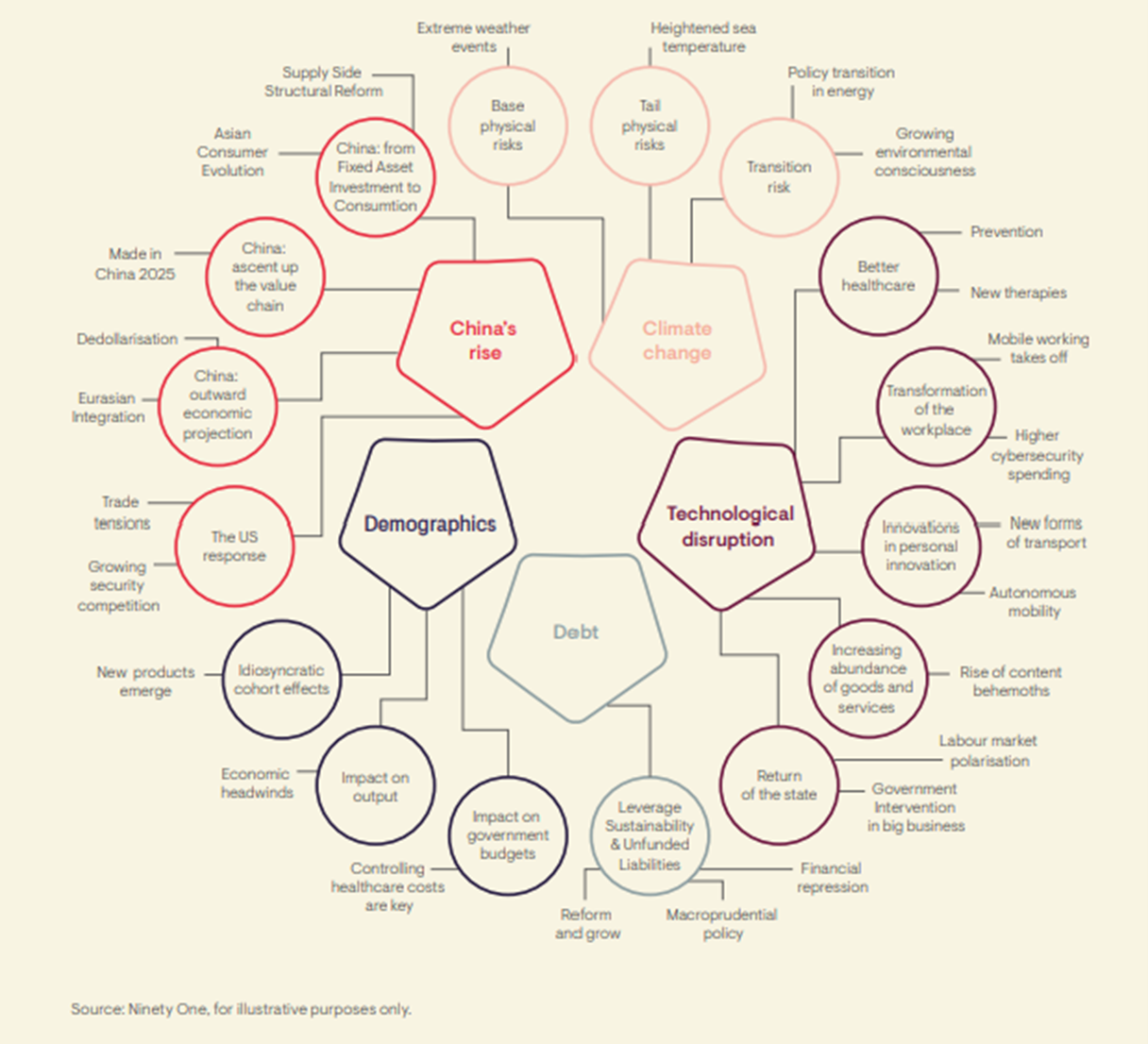 Read article from page 20 here.
---
Share
Our Foundation community has a wealth of insight and knowledge. With this monthly letter, we would like to launch a poll asking you for your vote. We are looking for hidden gems that we can share amongst ourselves. The idea is to keep it light and fun.
Elke's Christmas wine list
My favourite wine on a hot summers' day tends to be a rosé. It's always a crowd favourite, so I have selected my top 5 favourite rosé wines for you to try over the holidays. Some well-known ones but I have also included a few lesser wines. They are all brilliant! I hope you enjoy.
Bartho Eksteen - Blom
Druk My Niet – T3 Rosé
Holden Manz – Rothko Rosé
Gabriëlskloof - Rosebud
AA Badenhorst Family Wines - Secateurs Rosé
Results from last month's edition:
What is your favourite South African holiday destination?
The clear favourites: Kruger National Park and the Garden Route!
Click on this link for this month's poll:
What is the best book you read in 2021?
---
I hope you enjoyed this month's edition.
Best wishes to you this holiday season. I hope you can slow down, rest, and spend time doing the things you love.
Stay curious,
Elke Zeki, CFP®
Head of financial planning & strategic partner