Look
Other than my varsity years spent in Stellenbosch, I have always lived in Joburg. I truly love this vibrant and diverse city. My entire family lives here and I have a large, supportive, and sociable group of friends. So, it's with a heavy heart that I observe the constant flow of "for sale" signboards in my suburb and surroundings. A steady stream of friends, colleagues, and clients have been leaving the city of gold since Covid, and the decline of our municipality and infrastructure has accelerated this trend, especially amongst the wealthy.
The Africa Wealth Report 2023 provides a comprehensive review of private wealth in Africa, including high-net-worth-individual, luxury and wealth management trends, as well as expert insights on investing in Africa, the investment migration sector and economic mobility on the continent.
The report shows that the "for sale" signs I'm seeing are not confirmation bias but an actual trend. Millionaire growth (in USD) in Joburg has declined by 40% in the past decade. Followed by a 35% decline in Pretoria's growth of millionaires.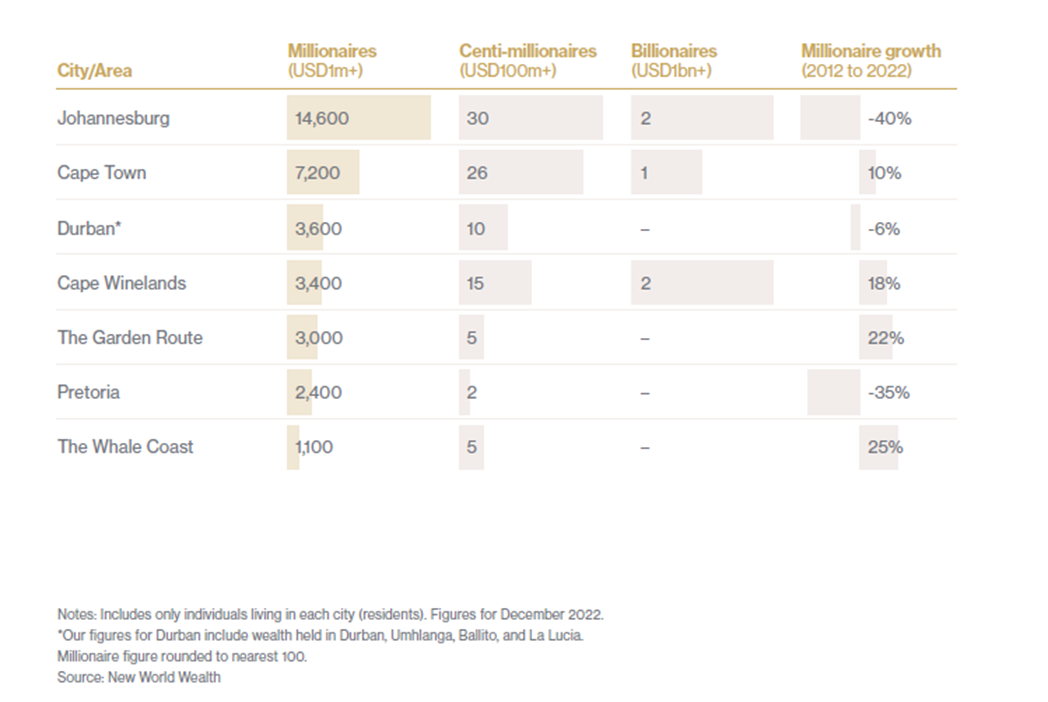 It's important to note that the Rand has depreciated against the USD over this period and would have affected all millionaires across South Africa. But I am trying to highlight an underlying trend seen here.
With this context, where have all these millionaires gone? The report suggests that there has been a shift towards the Cape Winelands, The Garden Route, and the Whale Coast (Hermanus area).
Even though Joburg is by far still the economic hub of South Africa and home to the most USD millionaires and centi-millionaires, the report suggests that Cape Town is on track to overtake Joburg as Africa's wealthiest city by 2040.
I'm sure the smaller coastal towns and larger cities are benefitting from the economic boost, but I do ask myself if this flow is sustainable. And what will the unintended long-term consequences of this shift be?
Listen
What is integrity? The most popular definition is being "honest and having strong moral principles". But there is another definition of integrity, according to executive and leadership coach, Jim Dethmer, which is "a state of being whole and undivided."
Dethmer explains that "when we are in integrity, we're energetically whole and fully alive." He explains that aliveness is in your heart, gut, and spirit. If you are not feeling alive or feel that your aliveness is slightly diminished, Dethmer encourages us to check into what he calls, the "Four Pillars of Integrity"
1. Radical responsibility. Can you move out of blame and move into responsibility for your own life and experiences?
2. Feeling your feelings. Can you invite all emotions and feelings into your life?
3. Candour. Can you speak authentically and openly about your feelings?
4. Impeccable agreements. Can you keep the agreements you make?
Dethmer believes that these pillars can reliably indicate your state of aliveness or wholeness.
Our team loved this podcast so much, that we have dedicated time during our next two team meetings to discuss it amongst ourselves. Integrity is an important value held by Foundation, and when we think of what integrity means in our business it's often the first definition, I mentioned that comes to mind. Now we want to explore what it means to think about integrity as our aliveness and wholeness. Not just as individuals but for the business. I think you are going to love this one too, watch it here.
Learn
There has been a lot of hype around large language AI models such as ChatGPT and the exponential growth in its capabilities. Businesses such as Microsoft and Google are amongst the largest companies racing to win control of the industry's next best thing. But have they chosen speed over caution?
Author and philosopher, Yuval Noah Harari together with co-founders of the Center for Humane Technology, Tristan Harris and Aza Raskin recently stoked concerns when they said:
"…gaining mastery of language, A.I. is seizing the master key to civilization, from bank vaults to holy sepulchres.

What would it mean for humans to live in a world where a large percentage of stories, melodies, images, laws, policies, and tools are shaped by nonhuman intelligence, which knows how to exploit with superhuman efficiency the weaknesses, biases, and addictions of the human mind — while knowing how to form intimate relationships with human beings?"
AI's power, therefore, lies in its ability to emotionally connect with you. The challenge, however, is how do we ensure it is used for the good and not the ill?
Imagine a pharmaceutical company launching a new drug without testing and trialling it first? They don't. So, how is it that Google and Microsoft can launch new technology that has not been fully tested? This is the question experts such as Harari, Harris, and Raskin are grappling with and raising, driven by their belief that unregulated AI can create social chaos.
There is no denying the benefits of AI, but have we fully considered the drawbacks? Watch this video of Tristan Harris and Aza Raskin taking us through their arguments and concerns. I found it insightful because it helped me understand all the advances being made in this space – an area I'm not that familiar with. It gave me a great sense of the accomplishments achieved, but also left me a little unsettled. With these accomplishments, we have opened ourselves up to a world of unknowns.
Oenophilia
Earlier this year we went skiing. It was a glorious occasion where 25+ friends and kids from across the globe came together to celebrate a 40th birthday. This trip offered so much more than birthday celebrations. We skied, snowboarded, laughed, and there was a particular day, on a particularly hard run, when there were also tears. Most importantly, we spent a week connecting with each other and nature. And of course, what is a ski holiday without eating and drinking!!
So, what did we drink? Loads of Aperol Spritz!
A spritz is a Venetian wine-based cocktail, commonly served as an aperitif in Northeast Italy. It consists of prosecco, digestive bitters, and soda water.
Recently, I discovered an easy, ready-mix version of the original cocktail at my local bottle store. It's called Andiamo ("Let's go" in Italian), and there has been a bottle in my fridge, consistently, since January.
Today, staring into the beyond of my computer screen I go back to the mountains: I'm sitting (yes, I chose the snowboard, so I spent lots of time on my bum!) on the soft powder staring at the snow and the vastness. Everyone in our group skis gracefully, or slides, stumbles, or falls off the chairlift, and we come together, decipher the map, choose a route, and someone enthusiastically says, "Let's go!".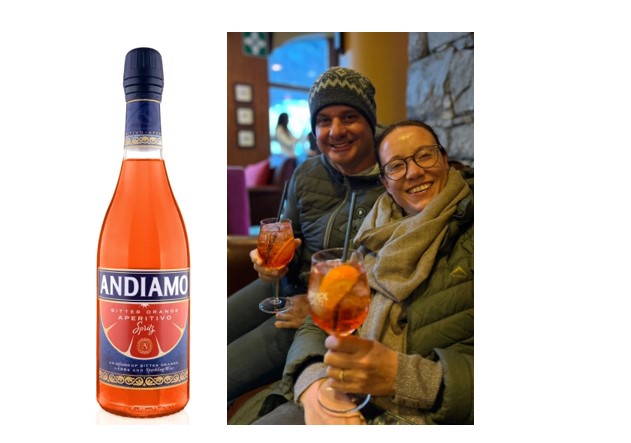 I hope you enjoyed this month's edition.
Stay curious,
Elke Zeki