Look
When is the right time to invest? Last month I warned about knee-jerk reactions when investing, especially when markets and currencies are very volatile. However, it's best to invest immediately.
A study by the Schwab Centre for Financial Research showed that over 20 years (from 2001 to 2020), it didn't matter when you entered the financial market. Rather, what was more important was to remain invested for the long term once you committed your money. Time in the market is better than timing the market.
The research showed that investors with perfect market timing (getting into the market at the lowest level), during these 20 years, would have delivered the best outcome.
Knowing when to get into the market or whether markets are at their lowest levels is very difficult, if not impossible, to predict. This leaves investors with three other choices when wanting to invest money:
Be decisive and invest immediately.
Phase the money into the market -this is called Dollar cost averaging.
Stay in cash.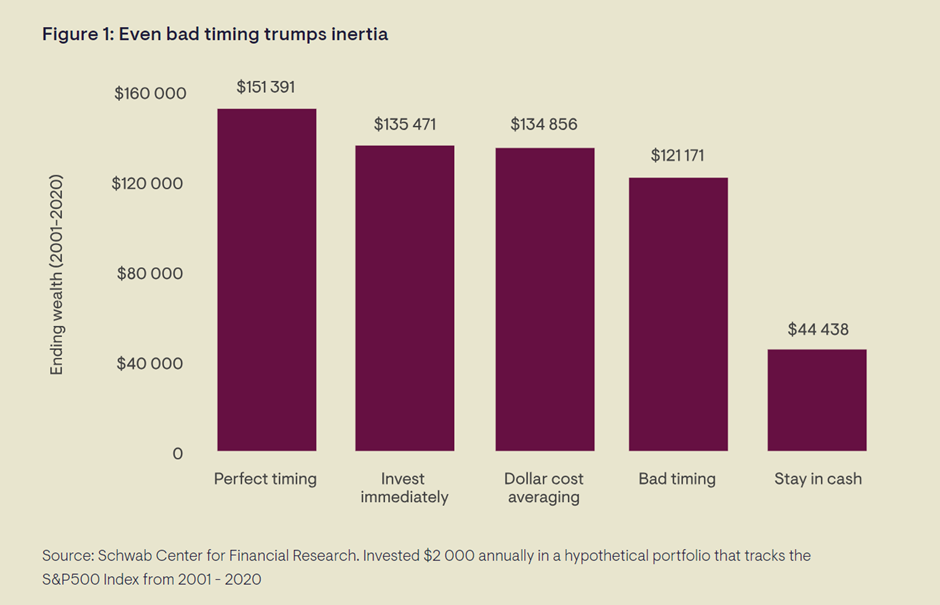 Dollar-cost averaging shows a good outcome. This is when you phase the money into the market through a disciplined approach. I find that dollar cost averaging helps calm the nerves and can be a helpful behavioural tool - phasing money into the market helps prevent procrastination and avoids wanting to time the market.
The bottom line then, according to the research, is that given the difficulty of timing the market, the best, and most realistic strategy for most investors, would be to act decisively and invest immediately.
Listen
Ian Bremmer, a respected political scientist, asks an important question in his TED Talk: "The next global superpower isn't whom you think."
Who runs the world? This is the key question Bremmer asks. He argues it's not as simple as it used to be, and that we need to consider the impact of the evolving global order. There are three global orders to consider here:
Global security order – the US is the dominant global leader.
Global economic order – US and China are the dominant leaders, but Europe and Japan have an important influence.
Global digital order – large technology companies are the leaders.
Bremmer believes that the global digital order is becoming the most important of the three, and this means that the global superpower lies with a handful of technology companies and their leaders.
How will these leaders lead? And what will the impact be on the future of democracy?
Enjoy this talk and consider the important questions Bremmer asks.
Learn
It's been a challenging few weeks for our team. A time of change – something every business goes through yes, but keenly felt regardless. We've been reminded that colleagues can be like family and having a team that supports and honours each other is an important part of a company's make-up, and very much a part of ours.
For the past 7 years, Louisa Kwape has lovingly prepared a home-cooked meal for the team to share every day. Over that lunch, we create space to unwind and catch up. Therefore, food has become an important part of our daily office lives. We comfort and we celebrate with food. We connect with each other around that and when who is around that table changes, it makes an impact. We feel the absence and taste the loss.
Stanley Tucci writes about the connection between food and people in Taste: My Life Through Food. His book has nothing to do with financial planning, at least not obviously. It is a book that is about connection and good food. But, the theme of connection, of interaction and discussion (that happens in the kitchen around food), was a pertinent reminder for me as a financial planner about what makes for good investing on behalf of my clients - namely, good connection, interaction and discussion between a financial planner and client.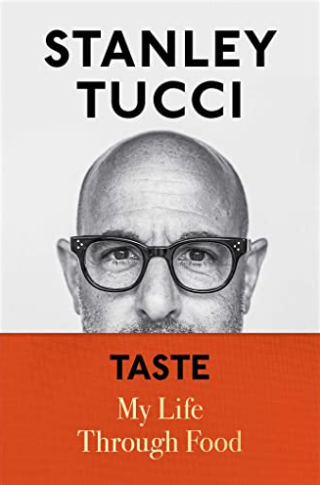 So, this month I want to share this easy reading and heart-warming book. The book is packed with recipes and stories, both sad and hilarious, but mostly it's about the power of a home-cooked meal.
Oenophilia
Last month I shared the reasons why I love South African Pinot Noir and who I believe makes the best wines. Undoubtedly, the best producers of Pinot Noir sit in the Hemel-en-Aarde valley, just outside Hermanus. However, many of the flagship wines from this area are expensive and not easily accessible.
So, this month I wanted to share a few of my favourite easy-drinking and affordable bottles of Pinot Noir. They are everyday wines that you will often find in my trolley when buying groceries for the week. The one I buy the most is the DMX Pinot Noir. This wine is exclusively made for Woolworths, and just delicious! Light-bodied with berry flavours and a hint of vanilla.
You can also try, Catherine Marshall, Mr P and Paul Cluver Village.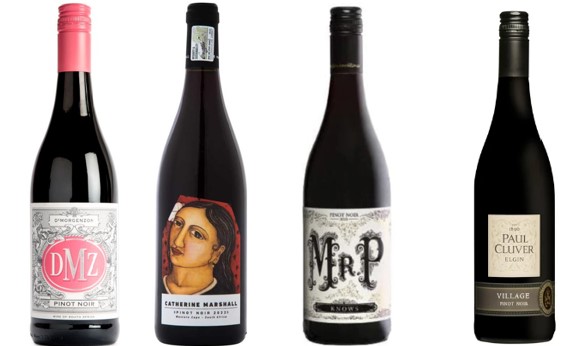 I hope you enjoyed this month's edition.
Stay curious,
Elke Zeki