Look
You will be forgiven for thinking that US markets and investors are optimistic when looking at the year-to-date returns. The S&P 500 is up a staggering 16.9% in USD for the year. However, these returns are not driven by the entire market but are notably driven by the technology sector (see the green line in the graph below). Artificial Intelligence (AI) is generating optimism in the industry as investors predict what impact AI will have on the world.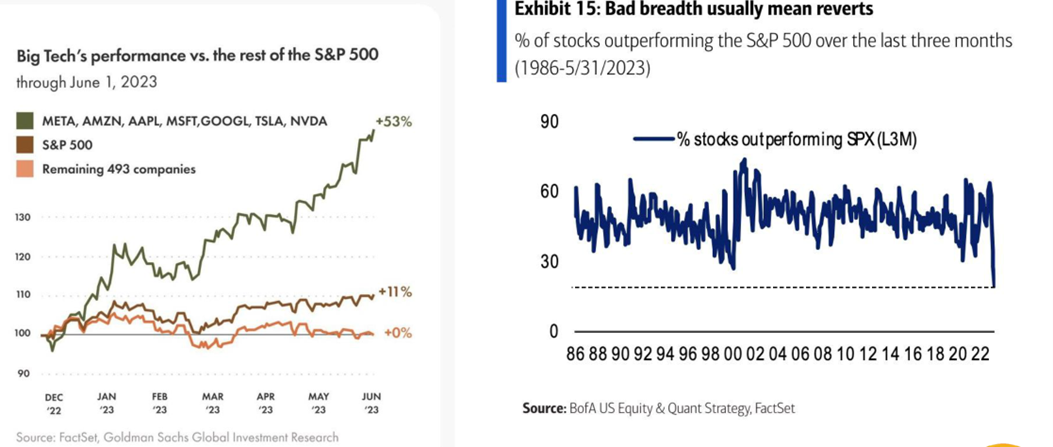 There is, however, another side to the story. Many shares have had a terrible year. Only 32% of listed US shares outperformed the overall market (graph on the right). The majority of the market has had a negative performance for the year. There is a huge discrepancy between these two sides of the story. This begs the question, "Whose perspective is correct?" Is the market perhaps less optimistic than it seems? Are we in for a correction, or will the lagging shares be "pulled up" by the strong tech sector? Analysts' views vary by almost 50%, the highest discrepancy in decades.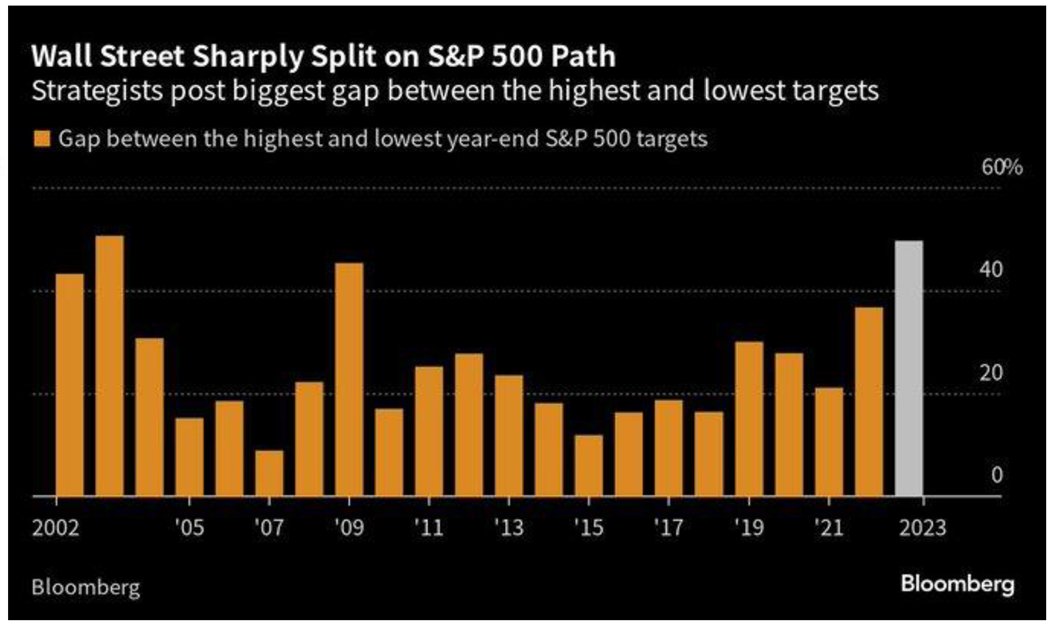 The key to this kind of uncertainty is to build resilient portfolios and stick to essential disciplines like diversification and rebalancing portfolios.
Listen
Naval Ravikant is an entrepreneur, angel investor, author, and renowned philosopher on life and business. Born in India, he moved to the US at an early age and eventually co-founded AngelList, a platform for startups to meet investors, job seekers, and partners online. Known for his incisive views on entrepreneurship, wealth, and personal development, Ravikant is widely regarded as a thought leader.
Reading Naval's book, "The Almanack of Naval Ravikant," is worth it for anyone seeking wisdom on wealth and happiness. It's a curated collection of his most impactful thoughts and advice on these subjects, rooted in a deep understanding of the modern world and human nature. The book is both profoundly philosophical and pragmatically useful.
I always enjoy listening to The Knowledge Project podcast series, and no episode has made a more significant impact on its audience than the discussion with Naval in 2017. It's one of their most downloaded episodes. What I enjoy about Naval's wisdom is that it is relatable and practical. He shares simple philosophies that can make a profound difference in your life and relationships.
Learn
Let's say the tortoise and the hare are participating in an investment race. The hare, representing an investment with high volatility, jumps forward in huge leaps some days, but on others, it moves backward. It's fast, erratic, and unpredictable, mirroring an investment that might provide huge returns one year, but then suffers severe losses the next.
The tortoise, on the other hand, represents an investment with consistent, modest returns. It moves forward slowly but steadily. Even though it never takes big leaps forward like the hare, it also rarely makes big leaps backward. This stability allows the tortoise to consistently make progress toward the finish line.
Over time, the hare, with its volatile returns, may end up not moving much at all because its large gains are often erased by large losses. Meanwhile, the tortoise, with its steady and consistent progress, may have moved a considerable distance toward the finish line.
This highlights one aspect of why consistency can be crucial in investing. Compounding returns - the "eighth wonder of the world" - works best when gains are consistent, even if they are small.
This article by our asset manager partners, PortfolioMetrix, illustrates this principle well. It compares some top-performing but volatile funds to consistent second-quartile-performing funds, just like the steady, consistent progress of the tortoise, who beat the erratic leaps of the hare.
Oenophilia
"Oenophilia is a love of wine. In the strictest sense, oenophilia describes a disciplined devotion to wine, accompanying strict traditions of consumption and appreciation. In a general sense, however, oenophilia simply refers to the enjoyment of wine, often by laymen."
Donkiesbaai is a wine farm like no other. It's on the West Coast of South Africa and has been the holiday home of the Engelbrecht family (owners of Rust-en-Vrede) for four generations.
The West Coast is a harsh and desert-like place. For some, it is difficult to appreciate, but for others, like the Engelbrecht's, it is a life-enriching place. The grapes from this region, specifically Piekenierskloof, are like no other in South Africa.
Many years ago, a young sommelier, Wikus Human, recommended I try Donkiesbaai Steen with my meal. It has remained with me ever since. Wikus went on to become South Africa's best sommelier for 2021 and is the head sommelier at Joburg meat-and-flame mecca, Marble. Donkiesbaai has since become one of my favourite wine farms to support. They make five beautiful wines, all worth a try.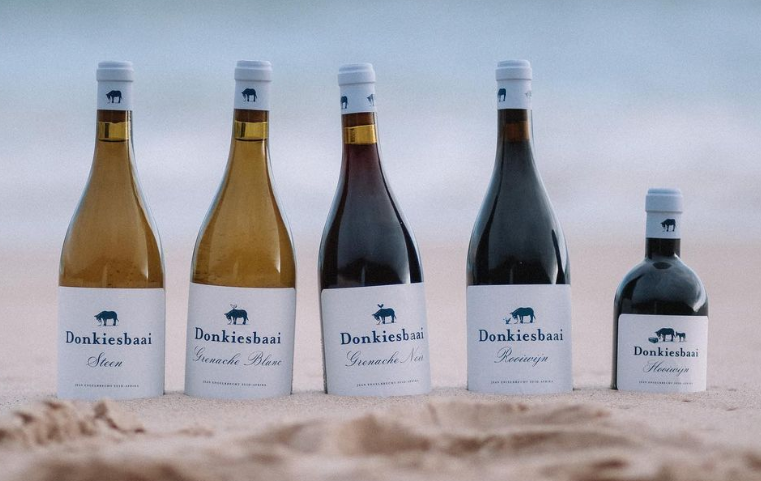 I hope you enjoyed this month's edition.
Stay curious,
Elke Zeki