Look
I share a similar graph to last month's, simply because it's too astonishing not to share. Perhaps you've heard of the "Magnificent 7"? They're a group of the seven largest, most successful technology stocks in the world, including Apple, Microsoft, Alphabet, Amazon, Nvidia, Tesla & Meta. They've been solely responsible for more than 75% of the Nasdaq's gain this year. These seven shares are up an impressive 54% for this year vs the remaining 493 shares on the S&P 500 up a mere 4%.

Global stocks have massively underperformed US stocks (over the past nearly 15 years), led largely by the Magnificent 7 whose market cap as a % of S&P 500 is now 28.1% - up from 15% 5 years ago.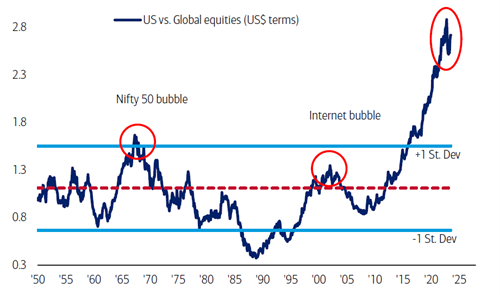 If your well balanced and diversified global portfolio seems to be standing still or doing nothing, don't despair! Context is important. Having a portfolio that is exposed to other geographies, sectors, and industries means it may have poorly performed this year - likely because of its limited exposure to the Magnificent 7.

However, the divergence between the Magnificent 7 (by implication the US) and the rest of the world is unlikely to continue indefinitely. The graph above shows what we can learn from history. Namely, that a period of underperformance from these shares could happen. Which means that a well-balanced portfolio will then reward the patient investor with better, risk adjusted performance over the long term.
Listen
The way humans think about money often deviates from what might be considered "rational" due to a variety of cognitive, emotional, cultural, and evolutionary factors. Cognitive biases, for example, are a systematic unnoticed pattern of deviation from norm or rationality in judgement and leads people to draw incorrect conclusions. Emotions are another, as are environmental factors, and cultural and social pressures, all of which play a role in our behaviour.

In this video, Nobel prize winner Daniel Kahneman and author Vicky Robin share different ways to think about our personal finances that are more rational.
Important areas of discussion include:
How to achieve financial independence.
How emotions and anxiety affect behaviour around money.
How to teach our children about money.
Reframing "more is better" with "enough."

I love all these insights so much and will be expanding on them in my future newsletters.

In summary, awareness and financial education can provide you with helpful tools and strategies to counteract unintended tendencies and biases - many of which start when you are young and affect your financial wellbeing as an adult.
Learn
If you don't already, I highly recommend subscribing to the blog "The Marginalian." Writer Maria Popova is well known for her thoughtful, in-depth articles, interesting ideas, quotes, and concepts from various books, essays, and other sources. Over time, "The Marginalian" (previously known as "Brain Pickings") has gained a significant following and is lauded for its contribution to deep thinking and interdisciplinary exploration.

In her blog a few weeks ago, Popova shared a poem about the ant and the grasshopper, called John J. Plenty and Fiddler Dan. In this poem, the poet exposes our modern suffering as the constant worry of not having and not being enough.

Popova's blog puts together beautiful snippets from the poem with her own thoughts and sketches.

I think this poem captures the complexities of life, the value of hope and the need for balance between saving and living, exceptionally well. It resonates with the balance we try and achieve at Foundation: that whilst saving is crucial, living in the present and enjoying what you have is just as important.
Oenophilia
"Oenophilia is a love of wine. In the strictest sense, oenophilia describes a disciplined devotion to wine, accompanying strict traditions of consumption and appreciation. In a general sense, however, oenophilia simply refers to the enjoyment of wine, often by laymen."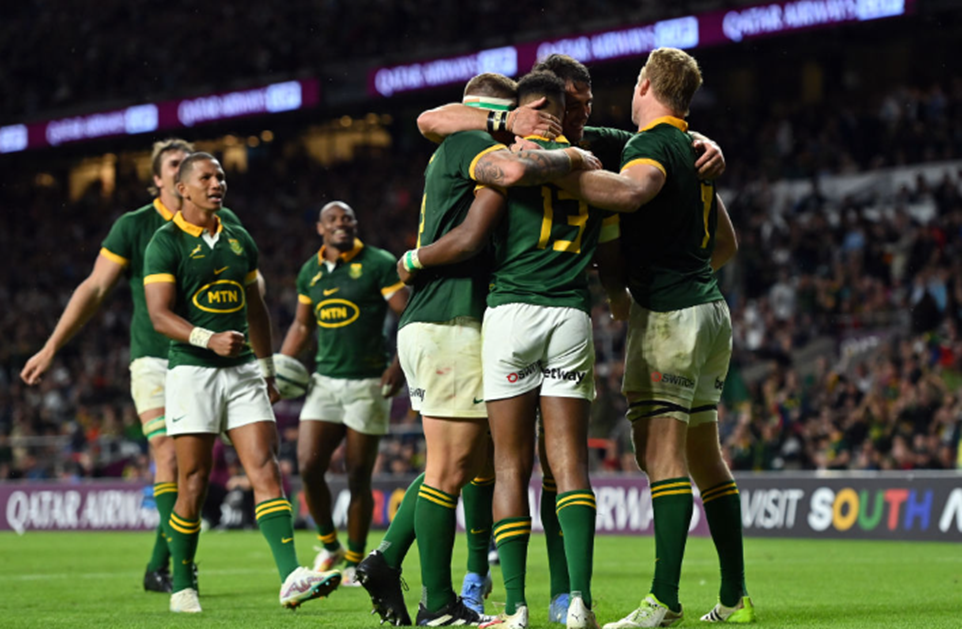 It's Rugby World Cup time and we all know it extends far beyond the realm of sports. It's about healing, unity, connection, and pride. Maybe a good outcome for the Springboks will leave us with hope for a brighter future, as it has done for us many times before.

So, what will I be sipping whilst watching the games?

World renowned wine critic, Tim Atkin, crowned winemaker Duncan Savage the South African winemaker of the year in 2022. Atkin is due to release his South African report soon and as with the Springboks, we wait to see if Savage can defend his title.

Maybe not the highest scoring wine in his collection, but certainly my favourite, is Savage's Follow The Line Cinsault. It bursts with red berry and floral flavours such as strawberry, cherry and rose, and is the perfect wine to transition from winter to spring.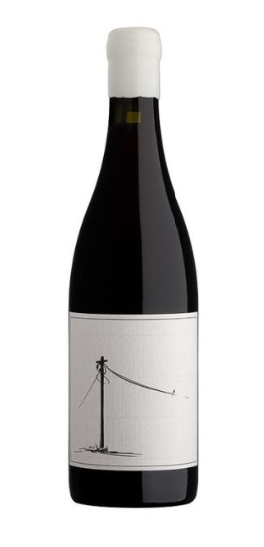 I hope you enjoyed this month's edition.

Stay curious,
Elke Zeki

//05 September 2023
<Foundation Family Wealth is an Authorised Financial Services Provider>