Look
Sequence risk is the risk that your long-term financial plan will be harmed by the order in which you get your investment returns. Let's look at an example of how this might play out: three retirees with identical portfolios, identical asset values and an identical long-term annualised return, can have three completely different outcomes based on when they retired and the different order of returns.
Retiree 1: Got off to a strong start and gained 12% annualised for the first 10 years, then 6% annualised for another 10 years, and then nothing for the last 10 years.
Retiree 2: Got no returns for the first 10 years, then 6% annualised for 10 years and ended strong with 12% annualised for 10 years.
Retiree 3: Got consistent annualised return of 6% per annum for 30 years.
In all three scenarios the long-term annualised return is 6%, but the outcomes are very different. Retiree 2, with the weak start, immediately draws income from the capital amount, and therefore is the worst off over time. Retiree 1, with a strong start, is able to grow the capital more than expected for the first 10 years and the compounding effect makes this person much better off than the others. Retiree 3 experiences the "middle of the road" with consistent returns.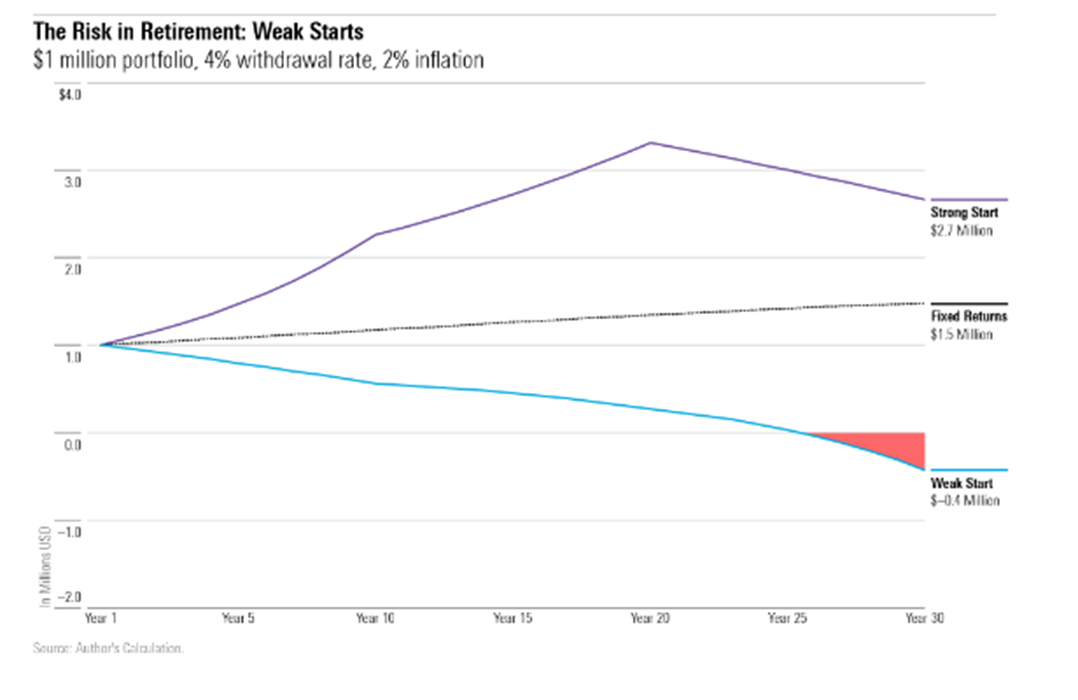 Source: Morningstar
For some, the difference between the three scenarios can be the difference between running out of money or not. Returns and the order in which you get them is unpredictable and completely out of your control. The best way to address this risk is to be flexible. If you find yourself in the same situation as Retiree 2, with a slow start, you need to be able to adapt to the environment. Focus on what you can control. You may need to reduce your withdrawals for a period or keep withdrawals the same from one year to the next but forgo your inflation adjustment. All these options will help protect the capital for longer.
At Foundation we continually monitor our clients' investment returns and withdrawals, so that we can help clients adjust when necessary. These steps are crucial for ensuring that our clients' long-term objectives are met.
Listen
Giving advice on something you are knowledgeable about has an ease to it. To the extent that it can even play into the ego. The result unfortunately is that you can completely highjack a conversation if you're not careful. Financial advisors often fall into this trap. At Foundation we have learnt that our clients are not just knowledgeable but are also invested and interested in their financial planning. Clients need to be listened to, instead of being told what to do. They are, after all, the experts on their own lives and goals. The art of financial planning has therefore become more collaborative. Although our expert input remains important, our clients' participation is paramount. With more information, we can give better, more suitable advice, which may empower clients to make important financial decisions.
To help us collaborate better, we are constantly working on our listening and questioning skills. This is a skill we can all benefit from, especially in our personal relationships with our friends, partners, and even our children.
This TED talk, 'How to tame your Advice Monster' by Michael Bungay Stanier is a funny reminder of how flawed and human we all are. Michael shares simple questions, to learn and practice, that can change your conversations and build a better connection.
Learn
This week global outdoor apparel maker, Patagonia, made an unconventional and ground-breaking announcement: "As of now, Earth is our only shareholder. ALL profits, in perpetuity, will go to our mission, 'Save our home planet'".
Patagonia founder Yvon Chouinard and his family announced that they will be transferring their ownership of the company, valued at about $3 billion, to a trust. This special trust, created to preserve the company's independence, will ensure that ALL profits are used to fight climate change and protect undeveloped land around the globe. Considering the company generates profits in the region of $100m per annum, the announcement is significant. It has also redefined philanthropy. Chouinard's act signals a commitment of annual donation into perpetuity, regardless of him being around or not. It also makes Patagonia now one of the biggest and growing players in global climate philanthropy.
I find this story truly inspiring, and knowing this about Patagonia, makes me more likely to support the brand. Perhaps this shift will make the business even more profitable, as each consumer can now participate in this important cause. Would you change your shopping habits based on how companies take care of the environment?
Oenophilia
"Oenophilia is a love of wine. In the strictest sense, oenophilia describes a disciplined devotion to wine, accompanying strict traditions of consumption and appreciation. In a general sense, however, oenophilia simply refers to the enjoyment of wine, often by laymen."
I enjoy and collect wines and have decided to share this passion with my fellow oenophile's. Each month I will be selecting my wine of the month. Feel free to share your favourites by replying to this email, I'm always looking for new wines to try. Your suggestion might even make the next edition.
This month I pay tribute to my favourite summer wine, the humble rosé or pink wine. British Master of Wine and wine journalist, Tim Atkin recently announced Lievland Liefkloos Rosé, as his South African Rosé for 2022. I immediately ordered a few bottles as I have never tried it myself. I am so glad I did. It's elegant and smooth with notes of pomegranate and cranberries. A summer must have!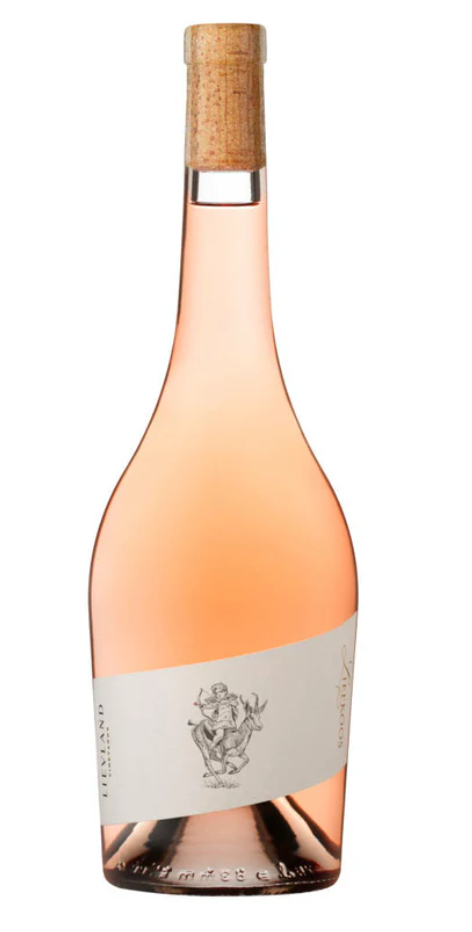 I hope you enjoyed this month's edition.
Stay curious,
Elke Zeki